Donate Now
01
---
Donors
Cameras – Donate your digital cameras to our After-school photography program! Contact 9600295212 or mail us at education@chennaiphotobiennale.com (cameras must be in working condition with a battery and charger)
Time – You can get involved today by becoming a Volunteer. Sign up and you will be joining a group of change-makers, a network strong enough to impact positive change in the lives of children. Email education@chennaiphotobiennale.com with your CV.
$$ – We need funds for our ongoing programs that include but not limited to teacher training, curriculum development, student mentoring, workshops, exhibitions, and lots more! Click here to donate.
02
---
Students
Intern: If you're a student, in high-school or college, and have an interest in working in the space of art, send us your CV at careers@chennaiphotobiennale.com
Member: Youth CPB membership is free for any students currently studying in school, college, or any recognized institutions. Benefits can be seen here
Blog Writer: The Prism blog is a space for anyone interested in lens-based and visual arts. Do you have an interesting article that you'd like to contribute! Write to us at sakshi@chennaiphotobiennale.com for a chance to be featured!
03
---
Sponsor
Curriculum Development Program
Teaching Fellowship
Free Photocamps in Government School
Email Gayatri gayatri@chennaiphotobiennale.com
Thank you to all our supporters and partners!
Since our conception in 2018, we've had numerous sponsors, partners and collaborators work with us and support us. We take this opportunity to thank every one of them.
To our sponsors so far, thank you for helping make our vision a reality!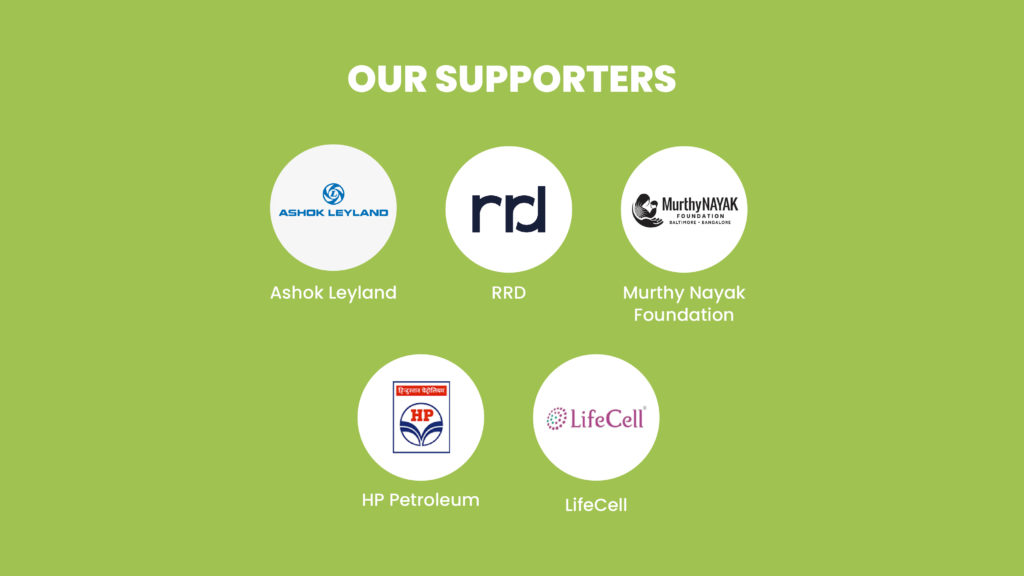 Aarthi Srinath
Aditya Arya
Akshay Yesodharan
Amala Aiana
Amulyaa Atluri
Archana Abraham
Divya Navin Kumar
Giulia Ambrogi
Indu Murthy
Karan Kaul
Kavya Hari
Mathangi Chandrasekar
Moraji
Mridula Joseph
Pavitra Nagarajan
Poornima Arvind
Prerna Gupta
Pritika Kumar
Priyanka Acharya
Rakesh R
Ranjani Shanker
Soundarya Srinivasan
Sriram Ayer
Srividya Sriram
Subbu Shastri
Swathi Sekaran
Vasant Nayak
Venkataraghavan Srinivasan
Vinod Kumar
We owe Ashok Leyland (@ashokleyland_official) our thanks for sponsoring all of our Government school workshops through their Road to School program. We taught students at GHSS Chinnasekkadu, PUMS Alinjivakkam, Vellivoyalchavadi and Neithavoyal, GHS Manali, Newtown, TMMS Thiyagi and Ramanathapuram, and GHS – Kanapasamy Nagar, Puzhal.
It was through this support that we hosted our first residential workshop in Chennai and exhibited the works of 25 talented students during @chennaiphotobiennale's second edition held at the Government Museum in Egmore, Chennai.
RR Donnelley was the key sponsor for CPB's first ever Skill Development Week, 2019, which consisted of a series of free workshops targeted towards students who were keen on developing their photography skills. Each workshop was led by an expert in her/his field of photography, be it Fashion, Food, Architecture or Journalism.
The MurthyNAYAK Foundation has been a supporter of CPB since earlier in 2020. CPB was invited to the first SPE Conference in New Delhi in Jan 2020 (for Photo-based educators in South Asia)
Thanks to the ongoing support foundation, we've been able to resume our programming in 2020 as well as hold all of our online workshops.
We would also like to thank HPCL and LifeCell for supporting our programming.
To our partners, thank you for helping us through our journey and opening new doors for us!
The Nalandaway Foundation has been our partner since 2018. We've worked with Chennai Corporation schools through Nalandaway's Art Lab program. Recently, we've also begun two new exclusive batches of #EyeSpywithCPB and #TeenPhotoAcademy with Nalandaway's Chennai Children's Choir.
Museo Camera, a vintage camera museum, showcases analogue cameras from over a century-long period. They've been our Education Program partner since 2020. With their support, we're currently working to expand our educational program to Gurugram.
Akshar Arbol School was our venue partner for our annual residential workshops in 2019 as well as 2020. Students of the school also participated in our workshops.
Dignity Foundation helps senior citizens lead active lives through various productive ageing and social support services. In collaboration with the foundation, we held a two-day photography camp engaging senior citizens.
The MCDS Centre aims at uplifting communities through their community-based
rehabilitation programs. We've collaborated with a few community centres of the MCDS to teach students various concepts in photography.
St+Art India Foundation, Chennai
The St+Art India Foundation (@startindia)aims to make Indian streets more interactive through the medium of urban art festivals. In collaboration with St+Art India, we mentored a total of 9 students to produce work which was exhibited during the inauguration of the Kannagi Art District.
In collaboration with Bengaluru by Design, we held a one-day workshop during the Bengaluru by Design festival.
VR Chennai supported and hosted our advanced photocamp in January, 2020.
'Seeing Climate Change', an exhibition on sustainability and climate change by 19 students from public and private schools was exhibited at VR Chennai during the Madras Art Guild.
We thank The Grid for being our Venue Partner through all of our weekend workshops in 2019.
We owe OtterBox our gratitude for sponsoring our protective and dependable iPhone cases!
Bhagwan Chawan, Chennai
We also thank Bhagwan Chawan for helping make our advanced photocamps possible by giving us space to host them.