An estimated one in five (20%) Indian women suffer from PCOS, but what is PCOS? Essentially, it is a lifestyle-related metabolic, reproductive, and endocrinal disorder that can impact fertility and lead to other problems if left unchecked.
September 2020 was PCOS Awareness Month, so we got in touch with Ankita Das, who graduated from NIFT Kolkata in 2019 to talk about her project 'Your Acystant to PCOS,' what started off as a project for her 5th-semester class soon turned into a journey of empowerment and awareness for Das and others around her.
How did you get this idea, to do a project on PCOS?
I was talking to some friends about PCOS, and realized not a lot of people know what it is, and even if they do there's so many myths and misinformation about the same so I thought this project would be a good way to spread awareness. In fact, not only did I manage to spread awareness and have healthy conversations about PCOS, but I also embraced my own disorder. One could say it was like killing two birds with one stone.
What was your personal experience with PCOS like?
For some time I was ashamed about my PCOS, in fact, a lot of friends found out through my project itself. I was diagnosed when I was 15 and wasn't comfortable talking about the same for very obvious reasons, we haven't normalized having conversations about reproductive disorders with friends and family as of now. There's a lot of insecurities that arise because of the disorder and as a teenager, it becomes easier to shut off and not talk about it.
How did doing this project help you?
Basically, the project helped me overcome my own discomfort and meet people who could relate to what I was going through. I actually connected to people and made a safe space where I could evolve into a person who could embrace PCOS as a part of my identity.
If you could change one thing about the way PCOS was perceived what would it be?
As I said, there's a lot of myths and misinformation surrounding the issue. Even people who have to deal with the disorder sometimes don't know enough about it or believe in a lot of myths. For example, I remember one person telling me that their PCOS causes excessive bleeding and believed that it happened to everyone else too but when I did my research I found out that it's not a norm in PCOS. So, of course, there's a lot of misinformation and that's what I tried to combat through the project.
Did you have any expectations about how your project would be received?
Before I presented the idea to my classmates, I expected that they'd think it was 'weird' or 'dirty.' To my surprise, everyone was quite empathetic, in fact so many people reached out to me afterward and talked about their own experiences with the disorder, it was quite wonderful.
What made you divide your project into different sections and how exactly did you decide what kind of visuals you'd go for?
Originally I thought of making the visuals quite direct and harsh, but my mentor told me that it would reduce my chances of communicating the message I wanted to convey. So I decided to take a more indirect approach which would help people ponder upon the message and gives them time to perceive, process, and react. I tried my best to metaphorize it through objects, it involved a lot of mind-mapping, sketching, and then I eventually narrowed it down to what it is now. As for the style, it was as minimal as it could be and to the point, I didn't want the viewer to be distracted by what else is going on in the picture.
Would you like to explain what the thought process was behind the three sections you divided the project into?
Yes, so the project was divided into three parts, number one being terminology. When I was in the 11th standard I studied biology, but I still didn't know what was going on in my own body, and I thought if I don't know enough even after studying the subject, how unfamiliar would others be with theirs? So I explained the terminology too.

Then of course in the second part I covered the side effects and physical symptoms that people face, there were quite a lot of challenges for example if we talk about the visual for Ovarian Cancer, it was a tough one but I had a eureka moment and figured that papayas have a lot of seeds and come in various shapes, thus they'd be a good way to represent the same.
Now coming to the third part, the emotional and psychological impact. Here's the thing everyone always talks about the physical symptoms of PCOS but not the mental symptoms and that's the key to understanding the disorder. I've tried to cover as many as I could, ranging from self-esteem issues to the burden of losing weight.
Finally, do you think translating personal experiences into art is important to you, as an artist?
Oh, definitely. To translate personal experience into art is necessary, for example, I believe that visual art always helps you communicate better, it shows that we don't always need words to get a point across. And it's incredibly heartening, seeing people engage with your art and respond in a positive manner. Not only does it become a learning experience for the artist, but it also helps us grow as a person.

About Ankita Das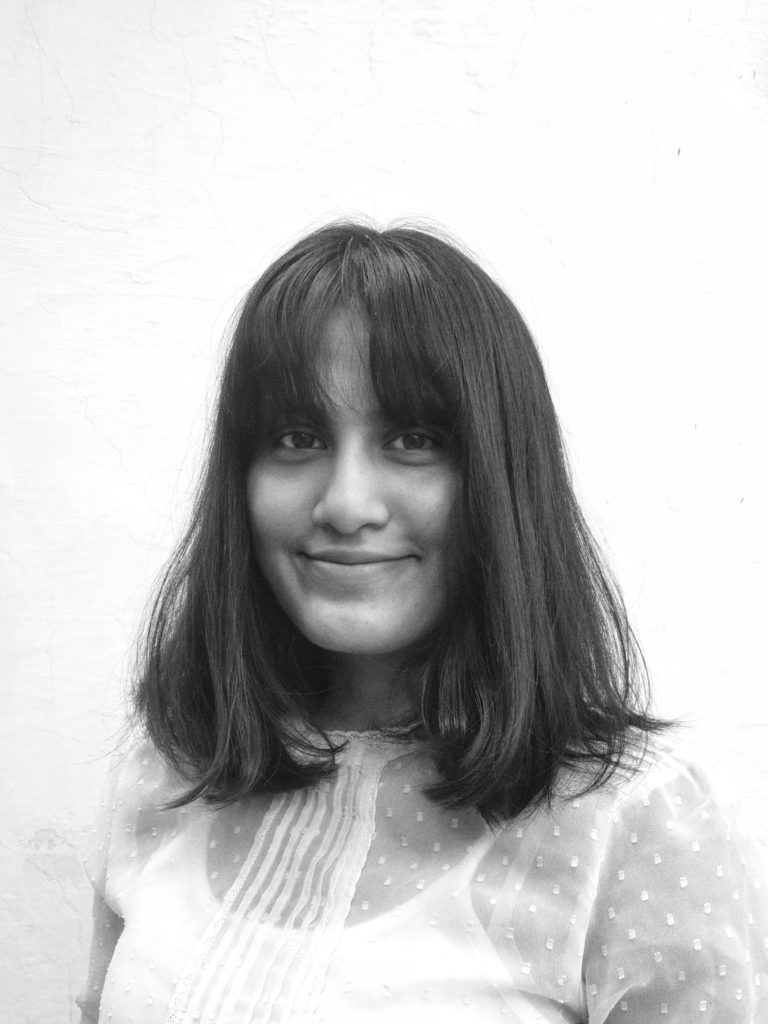 A communication designer by profession who often finds herself struggling between the identity of a designer who photographs and a photographer who designs. She's currently designing books at Dorling Kindersley, for a living. Previously, she's not only served as a teaching assistant at National Geographic Photo Camp but is also an alumnus of the National Geographic Photo Camp. She graduated college with a degree of B.Des Fashion Communication from NIFT, Kolkata, in 2019 where she also did her project 'Your Acystant to PCOS.' She's received the best Graduation Project in the department of Fashion Communication among all NIFT centers for her photography project 'Women in Bengal'.