Today, August 19, is celebrated as World Photography Day. The occasion marks one of the most significant moments in the history of photography — the day that photography went open source!
On this day in 1839, Louis Daguerre, a French artist and photographer widely known for inventing the daguerreotype process of photography, revealed the pioneering process to the world. The information inevitably became an instant hit, opening a whole new world of photography to artists and photographers across the globe. While making photographs using light and chemical reactions was nothing new, it was the increased speed and practicability with which daguerreotypes could be made that made the process more sought after.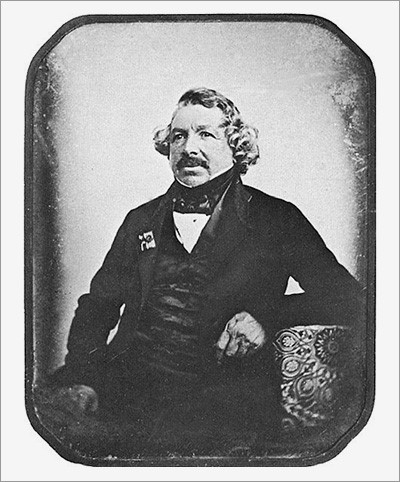 It was Daguerre's desire to increase the realism of his giant diorama paintings that led him to begin experimenting with photography — instead of using a camera obscura to sketch the outlines for his paintings, he began looking for ways to create images directly with the camera instead. His research eventually led him to the work of Nicéphore Niepce, who was working with a similar concept and with whom he subsequently began a correspondence. After Niepce's death in 1833, his son Isidore and Daguerre continued to experiment.
By 1939, Daguerre had come up with a process that used silver-plated copper sheets, iodine and mercury to cut exposure time down to minutes, and aimed at creating positive rather than negative images.
On January 9, 1939, Daguerre finally displayed his daguerreotypes to the public with support from François Arago, secretary of the French Academy of Sciences, and created a sensation. Daguerre and Isidore went on to make all the steps of the new process public after being granted pensions by the French Parliament to do the same. A discovery that would soon open unimaginable possibilities to the world of art and science was now on its way!
On August 19, 1939, the technical details were made public, and the daguerreotype stood out as the one photographic process that could have a future.
Within months, 'Daguerreotypomania' spread across Paris — supplies with opticians and chemists needed to make cameras and plates started selling out, improvements in the process continued to be made, and Daguerre's instruction manual had been translated into a dozen languages.
The days of people sitting for hours for a portrait were over. Vast crowds would wait in line to have their portrait taken as a daguerreotype instead, with studios opening all over Paris.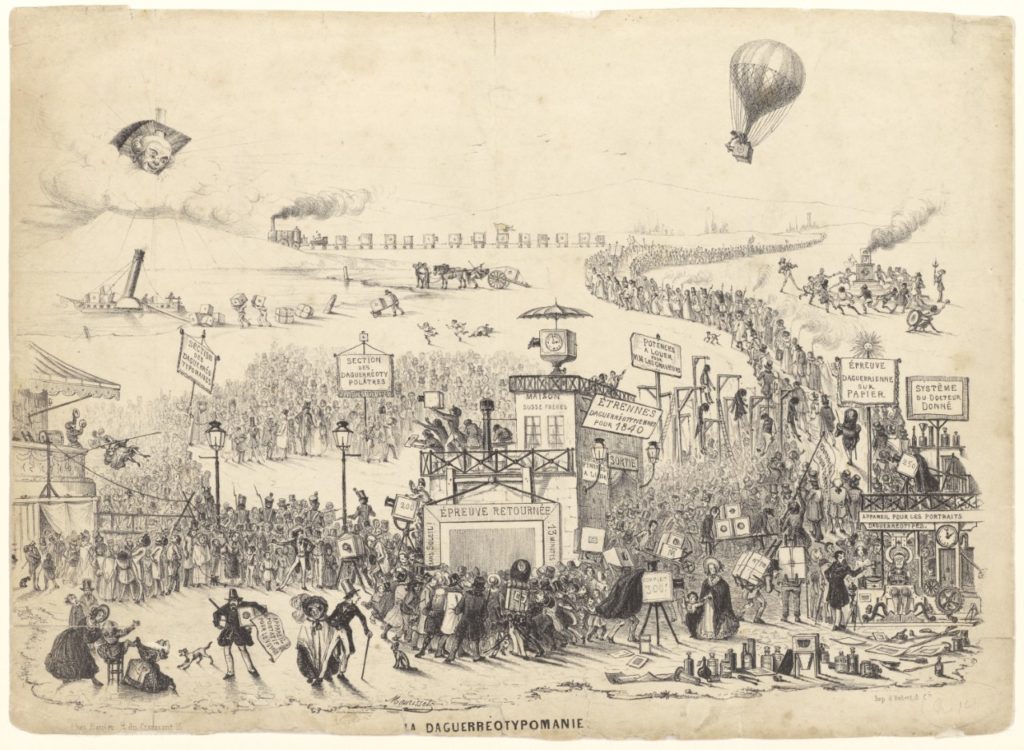 Daguerreotypomania by Théodore Maurisset, December 1839
A lithograph illustrating crowds of people waiting in lines to have their portrait taken.
The fever continued to spread, first from Paris to the rest of France, then across Europe, until finally crossing the channel to UK and reaching across the Atlantic to America.
Source: Daguerreian Society, wired.com
How did August 19 come to be celebrated as World Photography Day?
The idea of a day that commemorates the 'birth' of photography first occurred to 83-year-old photographer Om Prakash Sharma, a pioneer in the fields of art and education, in 1988.
Having come across the date numerous times in reference to its significance in the history of photography, Sharma set about propagating the idea within the photography community in India and abroad. In 1991, the Indian International Photographic Council, founded by Sharma himself, was the first to observe August 19 as World Photography Day.
Sharma subsequently wrote to the Royal Photographic Society in U.K. and the Photographic Society of America, persuading them to join in.
A little background on O. P. Sharma
In the late 1950s, Sharma arrived from Lucknow and began working at Modern School, Delhi, in order to establish its photo unit. Educationalist Mahendra Nath Kapur saw through Sharma the possibility of honing the skills of young students with hands-on experimentation in bracketing, vignetting, spot printing, and double-exposure techniques that soon became the compositional and creative tools of modern image-making.
Sharma's images derived their inspiration from various practitioners across the world and from elements of local subjects such as portraiture, landscape, flora and fragments.
In 1980, Sharma and his wife Chitrangada, also a great photographer, were invited to establish a photography department at Triveni Kala Sangam by arts patron Sundari Shridharani. The department is today a cross-disciplinary arts space for dance, music, fine art and photography, and celebrates its 40th anniversary in December of this year. In 1983, Sharma established the India International Photographic Council (IIPC) and authored four books dedicated to the lens-based practices of A.L. Syed, K.G. Maheshwari, T.F. Geti and Unwalla.
Today, O.P. Sharma is an internationally recognized photographer and has had his work exhibited in museums and private collections in Australia, Brazil, Germany, Russia, Norway, Switzerland, and the U.S. He has been the recipient of the coveted Stuyvesant Peabody Award and Lifetime Awards from the Delhi College of Arts, the Pakistan Salon Group, as well as the Asian Academy of Film and Television. An institutional tribute to the variety of skill-based vocational and educational endeavours that the Sharmas devoted their lives to is currently in the works.
Source: www.thehindu.com