March 6, 2021
We went to Kannagi Nagar to teach students from Shishu Shakti the printing process of Cyanotype, which uses chemicals and sunlight!
As mentor Varun Gupta started off the workshop by explaining the process, our students were excited and curious to learn something new. They were able to understand and see other ways photography could be used. We then continued to create beautiful prints of photographs they had shot during their previous workshop with us.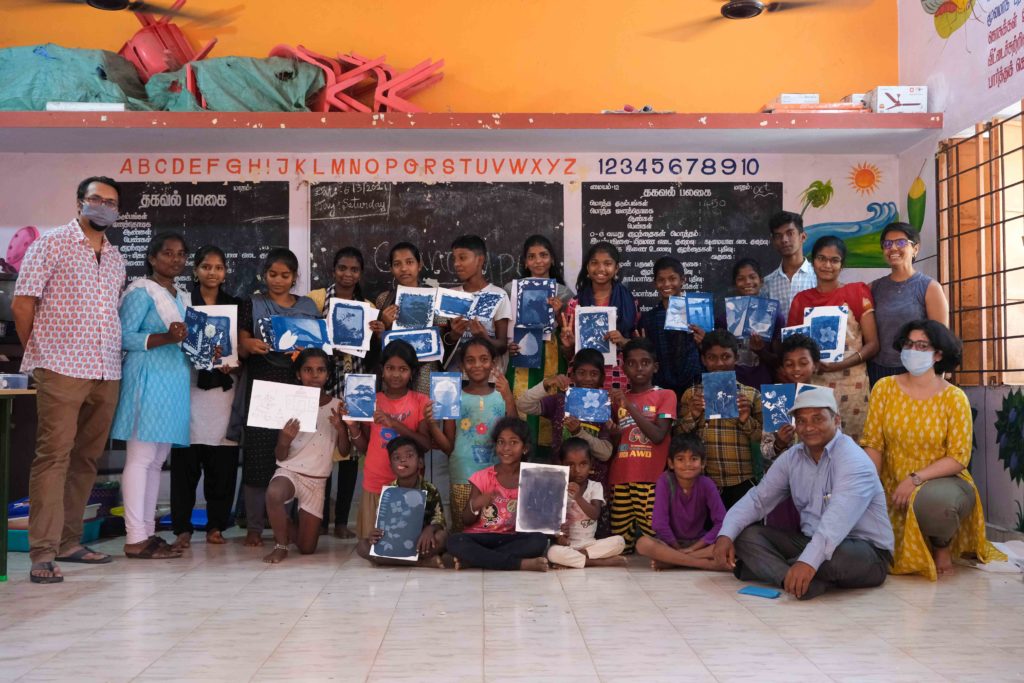 Students enjoyed working hands-on as they placed flowers and petals carefully and deliberately on paper coated with chemistry. The sight of the chemicals changing colors in the sunlight had them in awe.
Being creative and excited, they had great fun making photograms. They took their time by creating patterns and writing their names with petals. It was wonderful to see them use the space to be creative and expressive. The process of watching the chemistry wash away and drying the prints was fulfilling as they were able to own their art.
We were joined by other children from the neighbourhood as they came in to see what was happening in the centre. Inquisitive, they wanted to try out cyanotype printing themselves. We then had a new bunch giving it a try. The place was filled with energy the whole time!
We're looking to further encourage students to create more art and learn to express themselves more freely. They enjoyed this workshop and took back their artwork, proud of what they had created.
This workshop was supported by MurthyNAYAK Foundation.