We now come to the last week of #InAugustCompany! We owe each of you who submitted your stories and photographs to us a huge deal of gratitude for allowing us a glimpse into your lives during the lockdown, sharing everything you've learnt, and being an inspiration to other photographers shooting in isolation. Find a complete list of all photographers featured at the end of this blogpost.
#InAugustCompany with Nisha Ramesh (@themagicsaucepan), a food photographer. Until today, Nisha has also been CPB's main program manager!
"Being a food photographer, I have always shot indoors and a small window corner is enough for me to unleash my creativity. As natural light plays a major role in my photography, this forced lockdown helped me pay more attention to and analyse the dynamics of light.
"I strongly believe that light is the most critical element in photography. It easily makes or breaks an image! When it comes to still life or food photography, shaping light and shadows helps you bring varied moods / styles to your images.
"Fortunately, I found a silver lining in these challenging times and am using this lockdown to further my photography skills."
---
#InAugustCompany with Sheena Reddy (@sheenareddymakeup)
"Being forced to stay home during the lockdown, I got to appreciate all the little things that I otherwise would not have had or made the time for. Starting with winning over a kitten's heart to finding creativity in a simple twig I found on the ground, realizing that I can use a simple T-shirt to create texture and capture it. Used a pack of neon straws and a cup to capture my love of neon, and last but not least, a little butterfly taught me that patience is key!"
---
#InAugustCompany with Vishakha Menon (@vishakha.menon)
The Magical Hour
April was a month when the lockdown was in full swing and we were all finding ways to cope with our 'new normal'. As photographers, outdoors are something we love. During this period of staying at home, I found a quiet spot near the windows throwing golden light onto the white walls at five in the evening. I went around the house and picked up some interesting products, lay a cloth and arranged them. I fell in love with the astonishing glow of the golden hour. This eventually became a habit, wherein around 4 in the evening I would start strolling around my house and my garden picking up things, and just have fun in that dedicated time in my space with some good music. Golden hour has truly been the time of the day wherein I discovered the dynamics of natural light and the mesmerising shadows it can produce. This very small experiment and habit that I nurtured during these lockdown months has truly taught me how there would be testing times for all of us with an inevitable pause, but it is only to figure out how we need to pull the trigger and get going! The medium, platform or language of the portrayal of your creativity may find newer horizons but that should just be another igniting reason to learn more. Keep creating art!
– Vishakha Menon
---

#InAugustCompany with Sathya Ganapathi (@sathya.ganapathi)
"Photography = pure listening. An opportunity to leave behind my thoughts and parallels, without judgments… and to simply follow my intuition. Can I see things as they are, by just being a mirror reflecting everything that I come across, whether I use my Nikon or my mobile camera? This is my journey through photography during this lockdown."
---
#InAugustCompany with Varun Gupta (@varunguptaphoto)
"I've been using this lockdown period to explore my photo archives, both digital and film. One of the great joys of this process is to discover some unscanned experiments. These rolls were shot on the Lomo Sprocket Rocket on black and white film between 2017-2019. I love carrying this small plastic lens camera around when I'm out in the city. The camera exposes the film sprockets as the name suggests, but also has a two frame panoramic view.
Last night, while exploring some rolls of uncut film that I had just received back, I discovered these gems and decided to scan them in reverse.
I love to shoot with film because of all the possible glitches and variables that make the process magical. In the era of pixel perfection in the palm of our hands, I find that act surrendering to the chemical process quite refreshing. Of course, one can always make this film process perfect if they choose to – for me the flaws are where the magic is."
---
#InAugustCompany with Nanthitha Ravichandran (@__nandzz)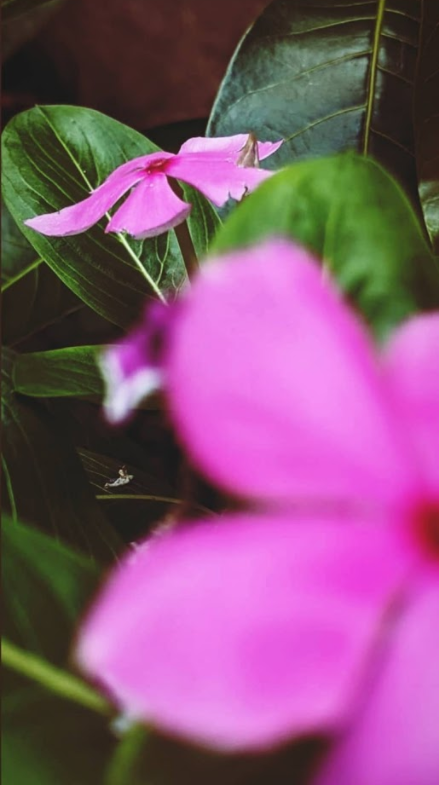 "I was so used to my mundane routine, when I couldn't meet my friends, sit in the back bench or share lunches and I missed my noisy classroom. I felt the dire need to connect to people more than ever before. When I started clicking photos of the tiny plants around me, of the flowers on my terrace, I was reminded of the connection that all of us have in common to the earth, our home. Photography taught me to appreciate the beauty in the small beautiful gifts of the earth around me, to seek peace in engaging with nature and in the way the noisy classroom is replaced with chirping birds. I'm so thankful that capturing photos led to nature capturing my heart."
---
#InAugustCompany with Shruti Mukherji (@hiji_bijbij)
"'We're all in this together' is a photo essay based on my journey from Paris to India during the time of lockdown due to the COVID-19 pandemic. In this work, I have documented the current state of forced social alienation of mankind; the feeling of isolation in my surroundings, the emptiness of otherwise lively places and my personal journey through all of this, across two continents and demographics.
"The series starts from my apartment in Paris, trying to capture what I can see within my limits from a window. The unusually lonely streets of Paris and the airport, people from other apartments waving at me. It gave me hope that we are all in this together, a kind of camaraderie that we have. I took pictures of the empty rooms that were visible, streets of Paris that were never so empty. Where did 'they' all go? I felt sad to leave Paris in a hurry. This wasn't how I imagined my departure would be. On my way, I started photographing the feeling of uncertainty, fear, suspicion and maybe a dash of hope to be homebound.
"Landing at home was no different. Stuck in a room at home, the camera was an obvious choice as my window to the outside. Taking photos of people, of surroundings and the overall shroud of peace and tranquility obscuring the feelings of uncertainty and concern."
---
#InAugustCompany with Vignesh Pavithran (@vignesh_pavithran)
"During this entire lockdown, my day in and day out activities have been to feed strays and play with my kid.
"My daughter's joy can be witnessed on my flat terrace; during this pandemic, her bonding with my father and pet has been immense. She waits for every sunset to play on the terrace, which is the only vent out for her.
"I have been documenting photos of my daughter since the day she was born. Each photograph will lead to beautiful conversations with her in the future.
"My viewfinder rejuvenates me whenever I see the world through it, and perhaps those four corners will create an inner echo which cascades the different horizons of life."
---
#InAugustCompany with Habiba (@its_all_picturesque), our education program coordinator!
"During this lockdown, my dad bestowed the responsibility of cutting his hair to his daughters. Hesitant and worried, he kept looking into the mirror and giving directions while my sisters asked him to sit still and not disturb, and mother came in to check if he still had all of his hair. It was quite a scene! Well they definitely messed up a little, but we were all just glad that he got a haircut and everyone had all of their fingers! We're now three haircuts down."
Have you had your hair cut by a family member this lockdown?
---
#InAugustCompany with Sai Geetha (@geethhaaa) and her cat @tyygaboii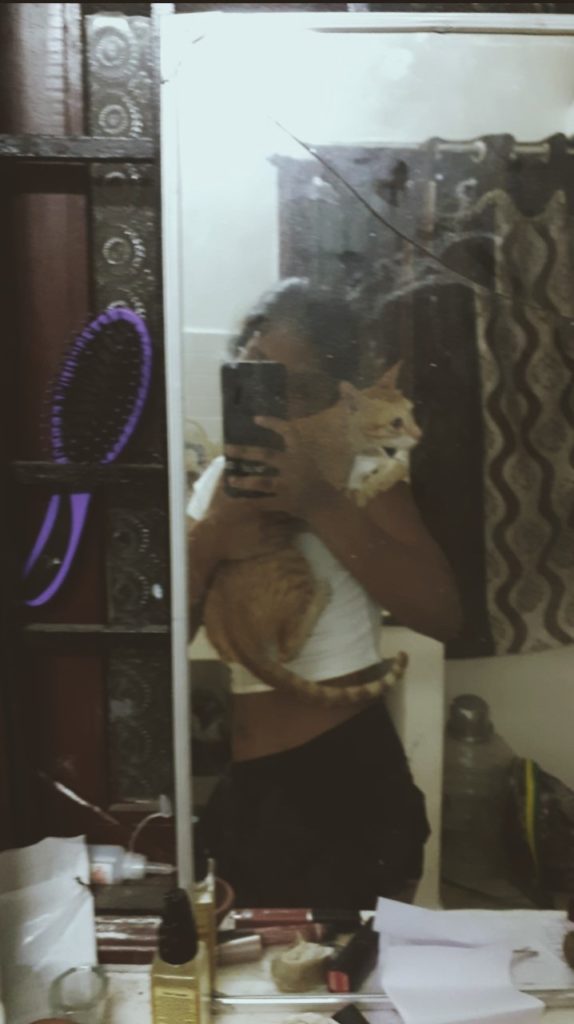 "With the extension of the lockdown in India, it was and it still is difficult for me to handle all the mixed emotions and thoughts going through my head. Though Facetime and Zoom calls helped me bridge the distance, I still craved for a human touch. This was the time when I understood my pet's emotions about how he didn't feel very happy about being locked up in a room. I always kept Tyga (my cat) in my room just so that I could feel secure and entertained, but the lockdown made me understand my cat's emotions. I started letting him go out, explore and play with the other cats and as I did this, I felt like he understood me and my need for him. He started visiting me happily all by himself for food, water, cuddles and more cuddles. I've never shared this kind of a bond with him ever before; he's there for me when there is no one else, as I'm there for him. I decided to capture all of his beauty and freeze the moments of just US. Everyday, I see these photos and I recall that entire day and I feel very proud of myself for being so strong, and that makes me extremely happy and thankful. These pictures are very precious to me as they remind me of how strong I was in a situation which I would never want anyone else to be in. Still, I think everything I went through just made me a better person who can do anything she wants to."
---
#InAugustCompany with Sri Loganathan (@visualsofsriloganathan)
"During this lockdown, I was continuously capturing the news stories in my hometown, Tirupattur.
It was very hard for me to do any work during the initial stages of the lockdown. After a few days, I started capturing the sanitary workers who were constantly working for the wellbeing of the people, risking themselves. Almost every day since I started this project, I woke up around 5 AM in the morning and started following the sanitary workers. I now have a personal connection with most of them. They share their day to day happenings with me. I'm close to some of their family members now.
According to me, photography is a beautiful science, that widens your thoughts."
---
#InAugustCompany with Soundarya Ravinutala (@thelenslaw_)
"My brother and his highschool sweetheart were finally to tie the knot this April after 13 years of dating. We had planned the most exquisite celebrations with lots of pomp and loved ones, but the lockdown came upon us a month before the big day. We managed through all the chaos and pulled off an intimate but wholesome celebration at home.
"The pandemic and the lockdown has reiterated more than ever how important it is to count our blessings."
---
#InAugustCompany with Sharan Ragesh (@sharanragesh)
"This series of pictures is something I made during the lockdown. The challenge for me was to be shooting only inside the house. The period of the last couple of months has been the longest I've been home, and since we cannot go out and take pictures I thought of making something that could document during this time. This series mostly follows my brother to show what a day in his life is like."
---
#InAugustCompany with Kaviya Ravi (@kaviyahere)
A series of photographs by Kaviya Ravi capturing various moments from the lockdown, including raindrops on plants in the aftermath of a rain, women working in fields, the sun seen through a new perspective, and colourful reflections with a light bulb.
---
We can't thank you enough for submitting, and we hope to hear from you again at the earliest opportunity possible! Listed below are all the photographers featured.
Amit Naik (@amitunaik)
Arun Kumar
Damini Rathore (@daminirathore.design)
Deepti Rai
Habiba (@its_all_picturesque)
Kavin Kumar La Sa (@kavin_lasa)
Kaviya Ravi (@kaviyahere)
Kowshik Vasudevan (@kowshikvasudevan)
Madhumitha Rangarajan (@madwhotravels)
Meenakshi Vydianathan (justaviewfinder)
Nanthitha Ravichandran (@__nandzz)
Nisha Ramesh (@themagicsaucepan)
Pavan Missula (@wannabeultrarunner)
Prachi Pearl Baptist (@scherzi_minor)
Prasanna Srinivasan (@vivid_snappy)
Qazi Hammad (@qazihammadmueenqari)
Roshan Siddharth (@rosharth)
Sabaritha Ernavoor (@sabari_ernavoor)
Sai Geetha (@geethhaaa)
Sharan Ragesh (@sharanragesh)
Sathya Ganapathi (@sathya.ganapathi)
Sheena Reddy (@sheenareddymakeup)
Shreya Vijayaprasad (@shreyavijayphotography)
Shruti Mukherji (@hiji_bijbij)
Sri Loganathan (@visualsofsriloganathan)
Sreelakshmi (@k.d.sreelakshmi)
Soundarajan (@soundarajan2)
Soundarya Ravinutala (@thelenslaw)
Vaishnavi Ramesh (@vaishnaviramesh_photography)
Varsha Sowmyanarayan (@varshnarayanan)
Varun Gupta (@varunguptaphoto)
Vignesh Pavithran (@vignesh_pavithran)
Vishakha Menon (@vishakha.menon)
You can browse the hashtag #InAugustCompanyWithCPB to check out all the photographs!