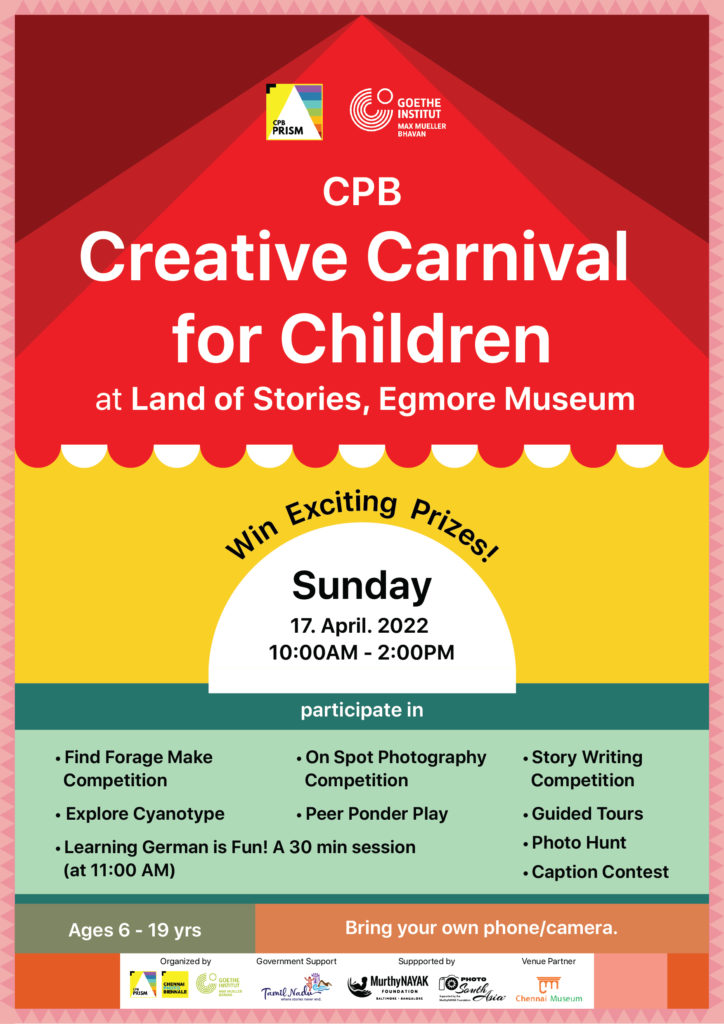 The CPB Creative Carnival was a pop-up art mela bringing 'A Land of Stories', our photo exhibition at Egmore Museum, to a close. The carnival hosted a host of fun and engaging activities for children, including cyanotype printing, photo bingo, 'Find Forage Make' (an activity about creating artwork, sculptures, patterns, etc. using foraged material), a story writing and caption writing contest, a photography competition, and more.
Winners of the various competitions took away prizes worth INR 3000! Find details, winners, and photographs from each competition below.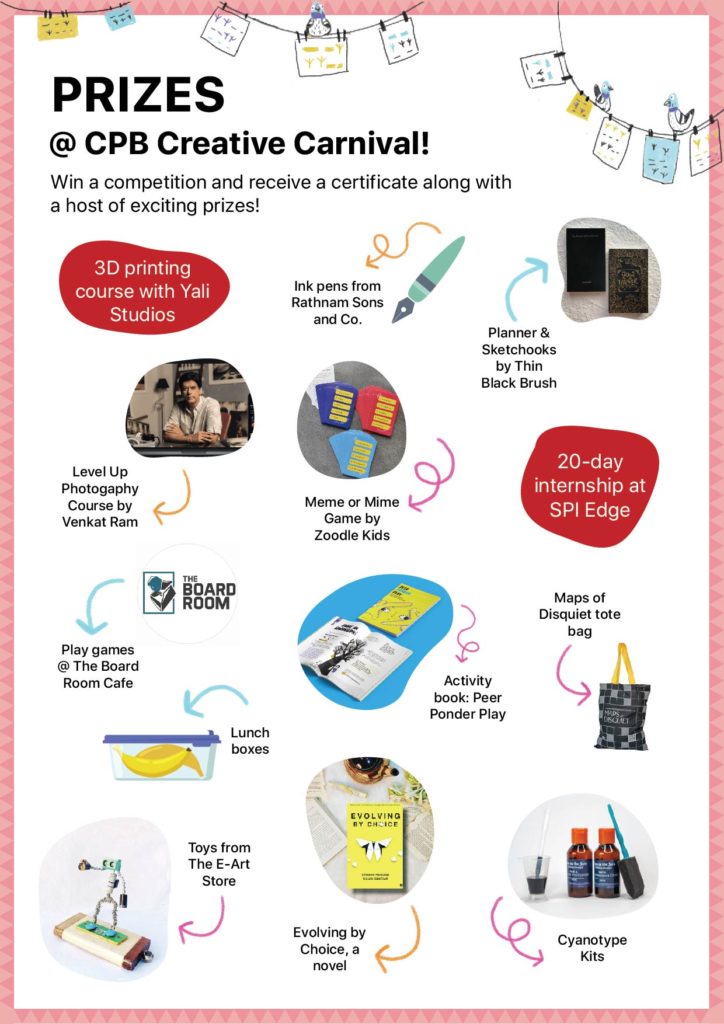 On-the-Spot Photography Contest
For an On-theSpot Photography Contest at the Carnival, participants were required to take a photograph within the beautiful campus of the Government Museum, Egmore and submit it to us.
The winner of the contest was Arthi K., a student of Chennai Girls' Higher Secondary School. Check out some of her submissions below!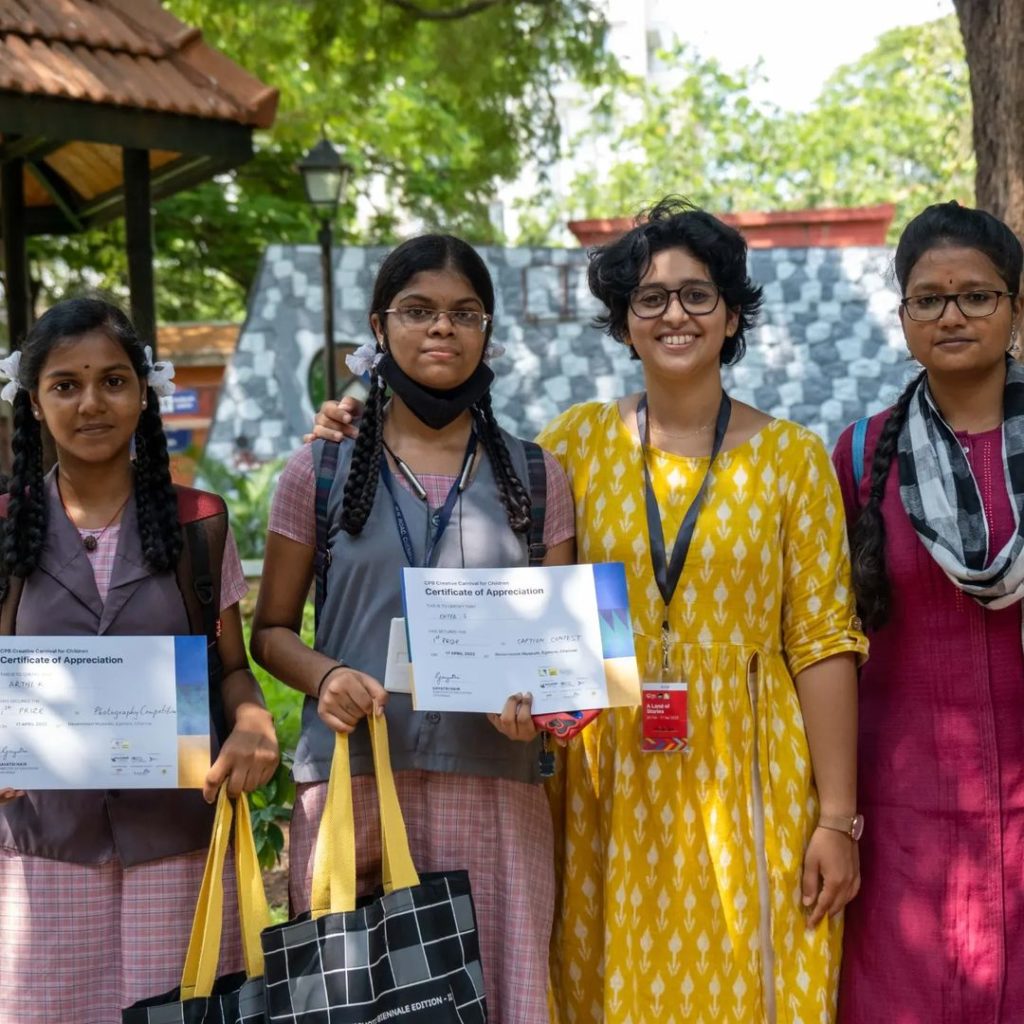 Story Writing Competition
For the Story Writing Competition, participants were required to write a story inspired
by ANY 5 out of 10 chosen photographs from A Land of Stories. Submissions were judged on the description and inclusion of images, plot development, clarity of narrative, grammar, vocabulary, and characterisation.
Participants were invited to write stories under two age categories, ages 11-15 and ages 16-19, in the language of their choice. The winners of each category were V. Kethan (Age 11-15, English), P. Kiruthink (Age 11-15, Tamil), Shambhavi (Age 16-19, English), and N. Keethika (Age 16-19, Tamil).
Caption Writing Contest
One of the events at the carnival was a Caption Writing contest, where participants wrote a caption for the photograph below: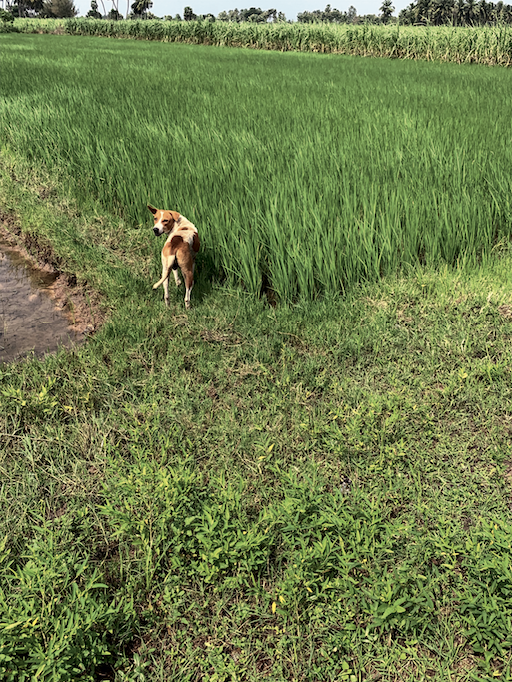 'Save Greenery To Live A Beautiful Scenery', a caption by Eniya S., a student of Chennai Girls' Higher Secondary School, won the contest!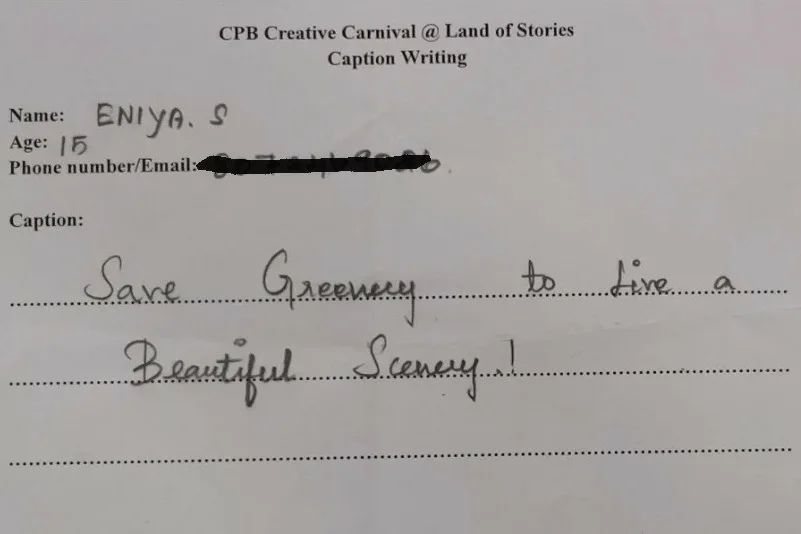 Find a few more of our favourite captions: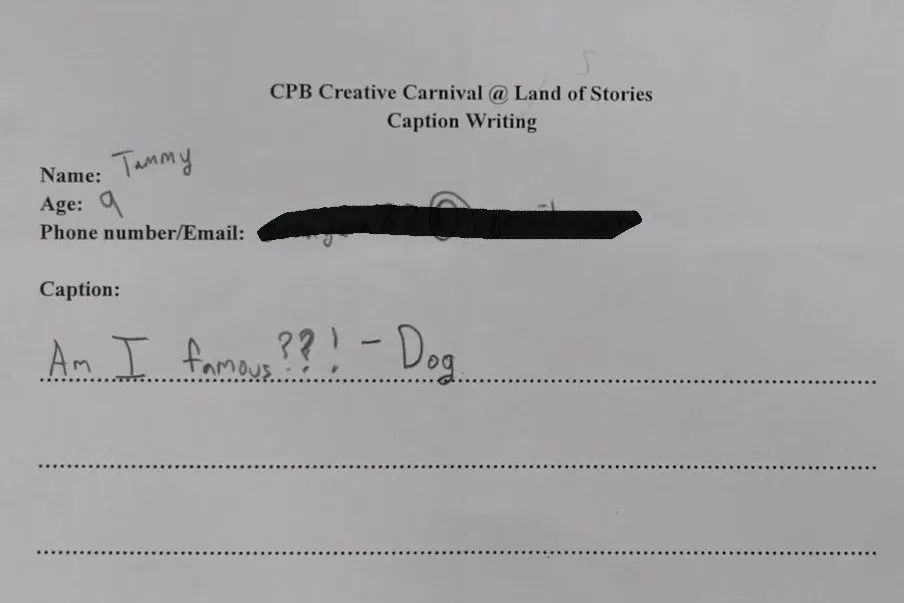 Find Forage Make
Find Forage Make, an art activity from our book Peer Ponder Play, is all about making land art, sculptures, puppets, accessories, etc using foraged material such as leaves, twigs or flowers. V. Darshan took away the prize for the competition! Check out some photographs of students at work below.
A gallery of images from other activities, including cyanotype, photo bingo, short German lessons, and more!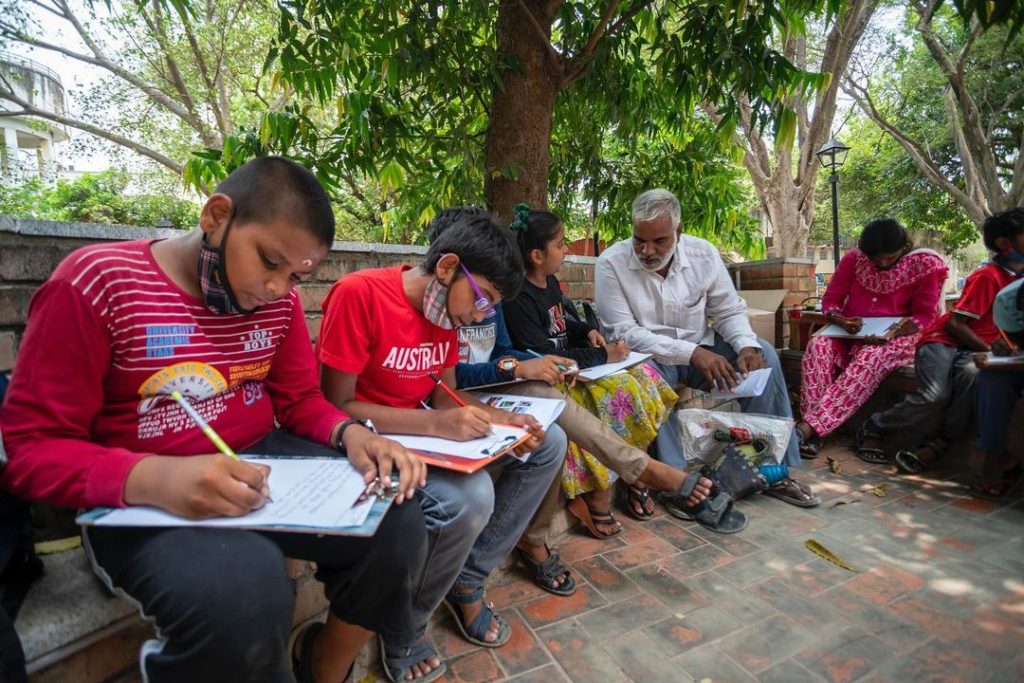 We extend a heartfelt gratitude to all the participants who made the Carnival a success!
The events at A Land of Stories were made possible by generous support of Goethe Institut-Chennai (@gi.chennai), PhotoSouth Asia (@photosouthasia) and MurthyNayak Foundation (@murthynayakfoundation). A huge thanks to SPI Edge, Yali Studios, Level Up Learning, The Board Room India, Zoodle Kids, DPS Laboratory, Sujani Ganesan, Krishna Prasad, Thin Black Brush, and Rathnam Sons and Co. for sponsoring our prizes!