Having worked with children from diverse backgrounds for over three years, we've grown to acknowledge various gender-specific forms of conditioning that children are put through from a young age. Media, societal norms, cultural backgrounds, and peer groups often play a defining role in establishing an individual's perception of gender and the various stereotypes that come with it. Phrases such as 'boys are tough', 'boys don't cry', 'boys don't show emotions', etc., while often thrown around casually, go a long way in shaping the way boys and girls see each other and themselves.
With the support of the Goethe-Institut, we were able to grab the unique opportunity to begin the new year with an in-person workshop at Manal Magudi, Kovilpatti with the objective of exploring themes of masculinity with children of ages 11-15. Spending time among children in their own community enabled us to specifically observe the interplay of gender roles and peer group relationships among them.
A Little Bit About Our Hosts
Students, parents, as well as the Prism team were at the receiving end of warm hospitality from the residents of Manal Magudi, the ancestral home of renowned Tamil scholar and writer Ilangovan (pen name Konangi) and Muruga Boopathy, an award-winning playwright. Our time was spent surrounded by art, photography and theatre that often helped reinforce the theme of our workshop.
Stepping into the theme
The theme was introduced through a series of open discussions held to gauge the way students perceived terms such as 'masculinity' and 'femininity'. Over the next few days, activities carried out through the mediums of photography and storytelling allowed us to further explore, question and challenge stereotypes surrounding masculinity prevalent in the local context.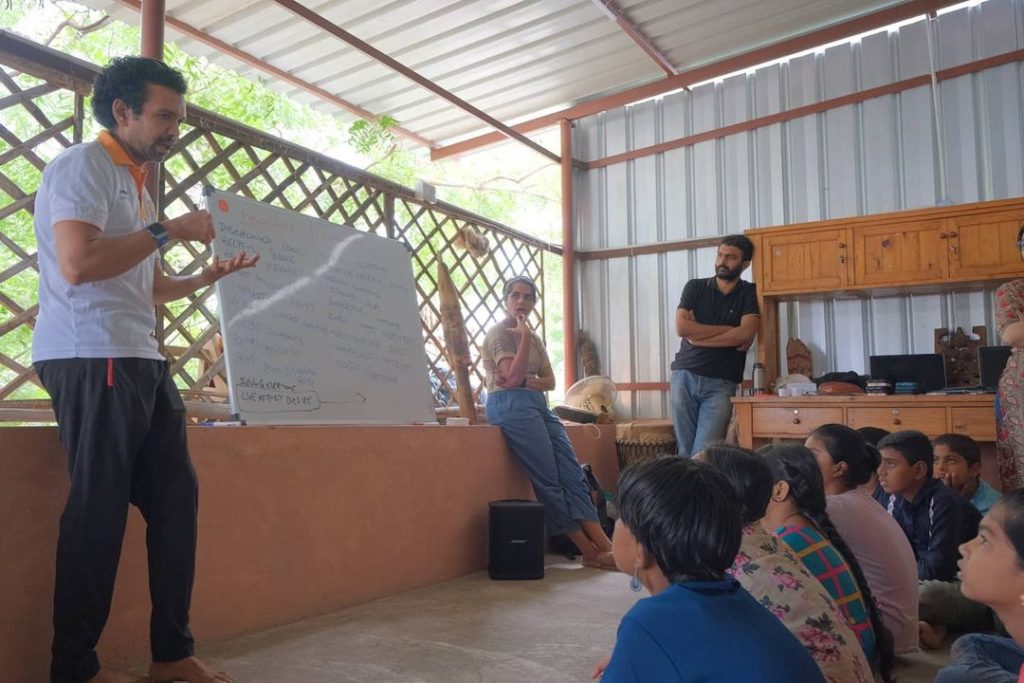 The overall objective of this four-day workshop was threefold.
Our primary objective was to stimulate critical thinking and self-expression through photography. Participants were engaged in open and healthy discussions addressing masculinity among their peers, families and community.
Activities were designed keeping in mind the importance of confronting gender roles and stereotypes, building emotional intelligence through active listening, observing and roleplaying, and forging diverse relationships to foster inclusion. A communal living space teeming with rich art and architecture, Manal Magudi formed a lively, vibrant and interactive backdrop for our photo assignments, conversations and lessons.
We were also able to take advantage of a picturesque heritage site located close by to carry out photo assignments.
"It was nice meeting everyone on the first day we got together. We sang songs, danced and went to Kaluga Malai, and it was very exciting. I feel sad now and think that I might cry while leaving," says Kayal, recalling her experience.
Talking about what she learned, she says, "In this workshop, I've learned about the different angles and ways in which we can take a photo. I read a book called Pink and Blue where they showed that boys can also like pink and they can have long or short hair. Girls can like blue and have short hair. I really liked it."
Iniyaal talks about having made friends during the workshop and regretting having to leave.
"I've made friends with everyone here, and I feel really sad that I'm gonna leave. I learned about angles. I used to take photos before but the lines weren't straight, the lighting wasn't proper. Now I've learned a lot of things which are actually helpful and I'm happy about it," she says, recalling everything she learned. "Photography is a resource that helps us recall our experiences. It's really beautiful, and it gives us the opportunity to remember whatever we did, and visually see whatever we did. I think that's really nice. It's really important to learn photography if you like it and are interested in it. Every kid should learn it."
Asked about her thoughts on the books the students read, she says, "I really loved the books we read, I had a smile on my face after reading them. They were about girls and boys being equal and everyone being able to do what they want. This book (Pink and Blue) is really interesting, and kids can actually understand it. Many people should read that book. I also learned that many people still think that girls and boys should play in separate groups. I don't think that, I want to break those kinds of rules.
Our second objective was to develop and make available a comprehensive lens-based curriculum with a toolkit of resources and activities for other educators looking to spark discussions on masculinity using visual art.
Our third and final objective was to hold a public exhibition of the photographs shot by students, consequently expanding our discussion around masculinity to a larger audience. Shot on iPhone, three different photo series were exhibited as part of the exhibition. The first focused on Manal Magudi and everything about it, from its people, its activities and its residents to the space itself.
The second was inspired by the book Pink and Blue by Ritu Vaishnav, which challenges gender norms in a playful manner. Raising serious questions about everything from cliches to enduring stereotypes, the book chronicles an attempt by a mother to start a conversation with her child about gender roles. The photo series, showcased in the video below, was a recreation of colorful illustrations from the book.
The third photo series revolved around the students themselves, comprising of portraits they shot of each other.
In conclusion
Foraying into exploring a concept as layered as masculinity with children led us to a number of unforeseen challenges, with each activity carried out revealing something new about our audience. Books, short videos, advertisements and films proved to be indispensable to our workshop, their inviting and thought-provoking nature enabling each student to resonate with the theme in their own unique way.
For us, reflecting on the societal constructs around masculinity cemented the importance of introducing themes such as masculinity and femininity early on into children's education. We eagerly look forward to utilizing our experience to be able to open similar conversations across other communities around India.
Meet the students!
Our nine students, joining us from Sattur, Sivakasi, Bangalore, Thiruthangal and Kovilpatti, were the most patient, receptive and creative audience we could've hoped for. We thank the parents of all the students who participated, as well as the residents of Manal Magudi for helping reinforce our efforts with unreserved support and hospitality.
For a better glimpse into our experience, we invite you to view a brief documentation of our journey in this short video.