Throwback to the first residential photocamp (1-3 Feb 2019) by Madhumita Rangarajan (read Part 1 here)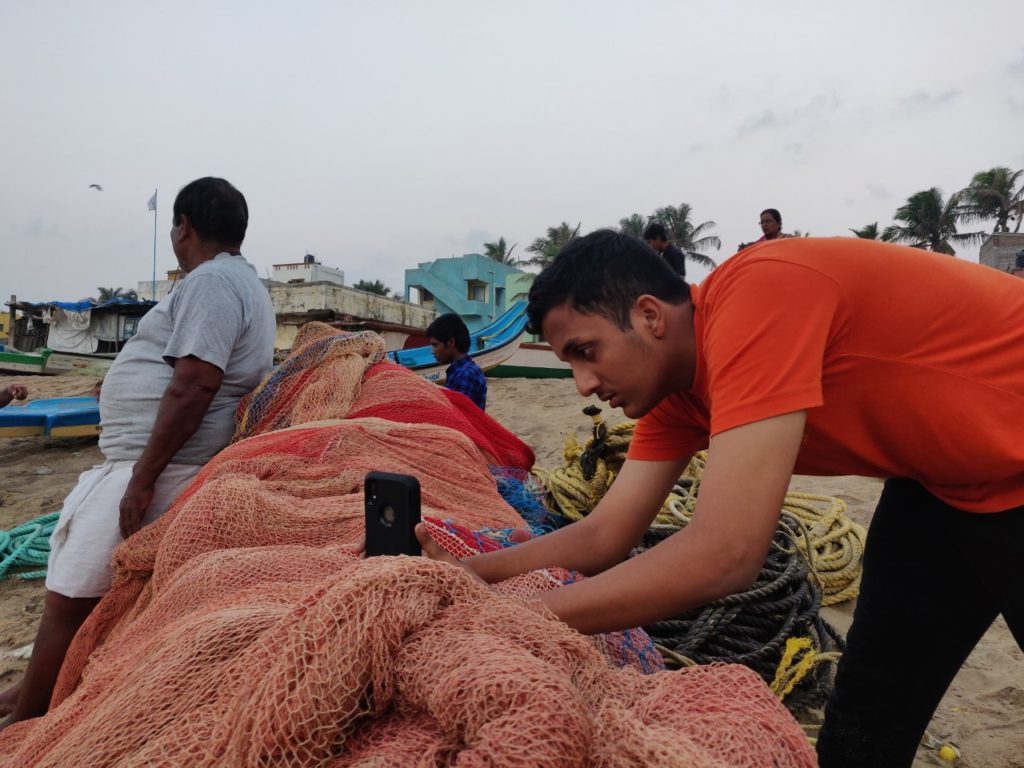 Friday night we had to give them all a briefing on the topic that was 'Stories of the Ocean', what it meant and what they had to shoot the next two days. On Saturday we all woke up early to wake the children up and get them ready so that we get to shoot some sunrise photos and mainly to catch the morning activities at the beach. The photographs revolved predominantly on the lives of fishermen and their connection with the ocean. The students captured a variety of stories right from the animals at the beach, to the lives of children, fishermen, fisherwoman, dead sea life, buying and selling of morning and evening catch. Basically what life alongside the ocean meant to each one of them. Every student was given a particular topic to choose from and he/she had to photograph accordingly.
The first photo walk that happened on Saturday morning was more like a trial session, they were given the freedom to shoot what ever they liked or saw but we ensured that they brushed up on the various composition techniques that day. The entire group was split into groups of 5 and each of us had a mixed bunch of 5 students for whom we were responsible. We had to be with them and mentor them through the 2 days. After our first morning photowalk, we went back to the school to review the photos they clicked. The classroom session started with introducing CPB mentors and volunteers to the students and later we gave them feedback for the photos that were clicked that morning. We taught them what a photo story is with some examples shown by Gayatri.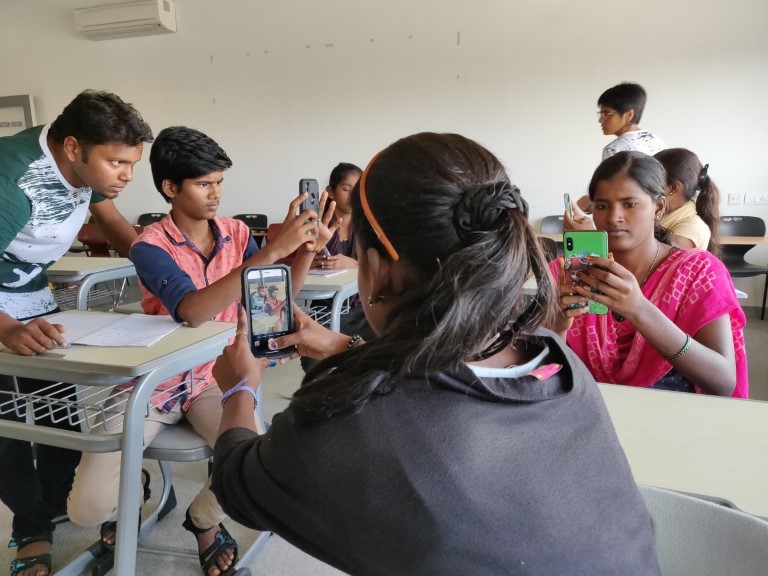 After the theory, we walked around the school campus to make some photos. We demonstrated a few techniques to them and showed them how they could use a space as beautiful as Akshar Arbol to shoot some wonderful photos. Topics like colours, light, angles, perspective, composition, etc.. were brushed upon once again to them. The students were paired up to shoot portraits of one another against varied backdrops and angles. We were all really tired as the day started early and everyone walked up and down the beach photographing so many things but despite this, the students were super excited about the evening shoot at the beach. We went back to the room, rested for a bit and then headed to the beach for our evening shoot. This time, we walked around the village to photograph the lives of fishermen and to get a sneak peak into their homes and livelihood. The students captured the slightly laid back evening lives of the fishermen families.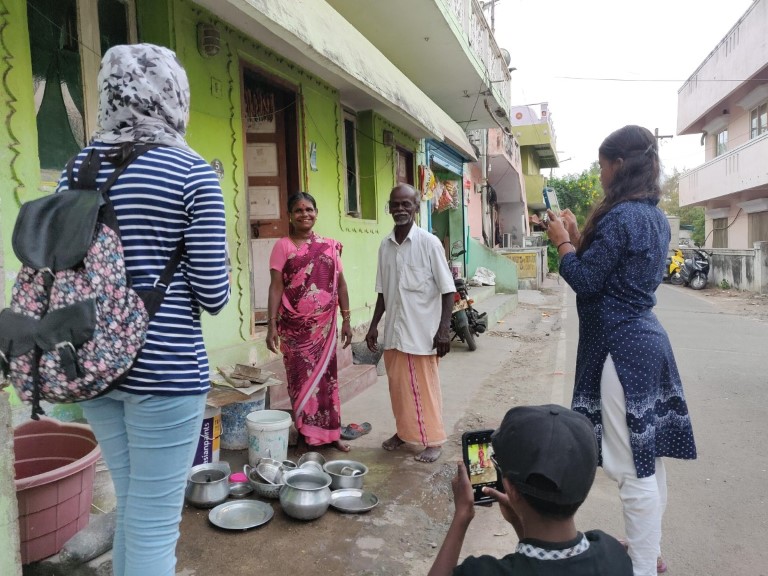 They got to interact with the residents of the fishing village to create a more personal connection with them, many of them identified each other from the morning shoot. It was so nice to see the students interact with one another with no inhibitions. They understood how important it is for a photographer to make that personal connection with their subject. The evening photowalk happened mainly for us to teach them to shoot in low light. The photo session ended around 6.30PM, we then reviewed their photos once again on the beach. It was so beautiful sitting by the ocean with these children, mentoring them while we listened to the sound of the waves constantly. I thoroughly enjoyed that evening. To not make the workshop boring, we had a small dance party on the beach where we played music of their choice and danced to it.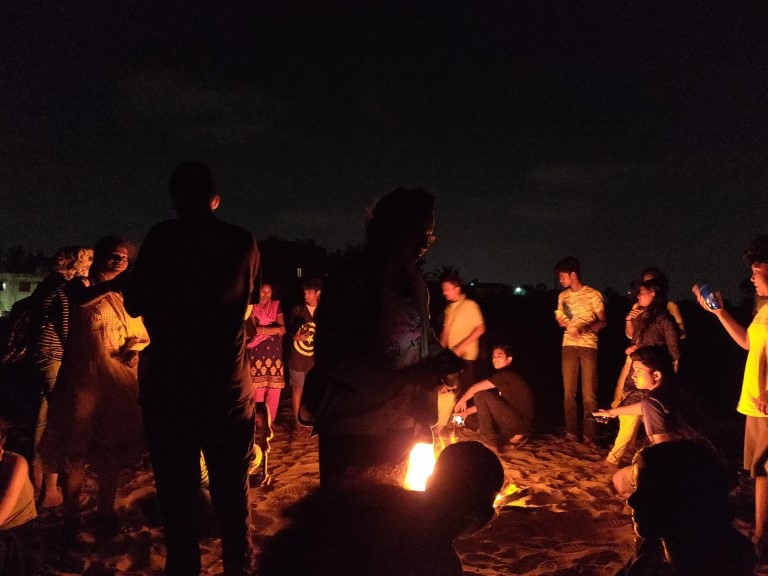 Everyone got together and had so much fun, we even had a small bonfire on the beach where we all sang, danced and photographed using the available light. This was a surprise for the kids and they loved it as much as we did. The night ended with a small session back in the room where we showed them more examples of photo stories and what they could shoot the next day.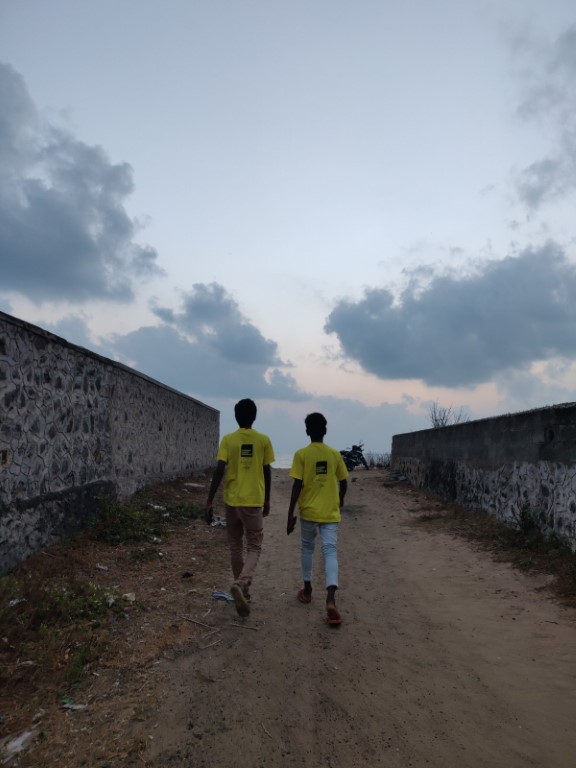 Sunday was the last day of the workshop and I was slightly sad cause it was coming to and end but we had to really be on our toes to finish the day as per our schedule. Sunday was the most important day for the students as they had to shoot their final images according to the topics given to them and the final images shortlisted from this set was going to be displayed at Egmore Museum as part of the 2nd edition of Chennai Photo Biennale exhibition.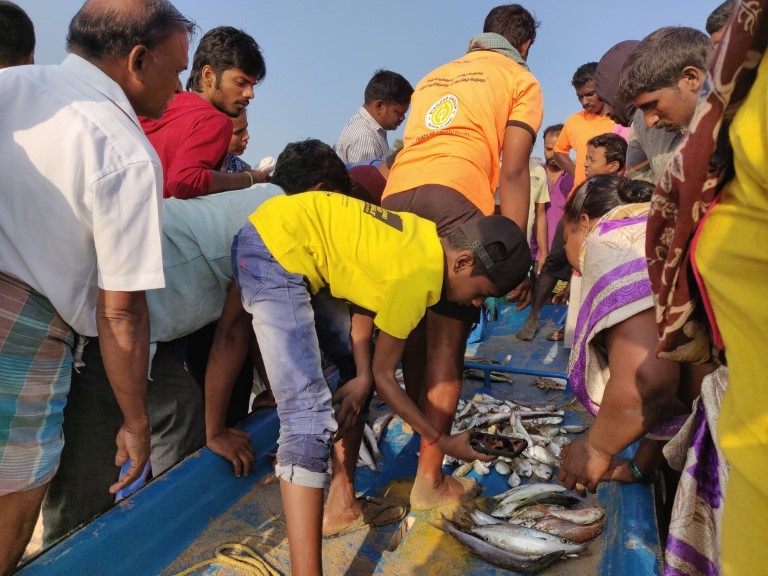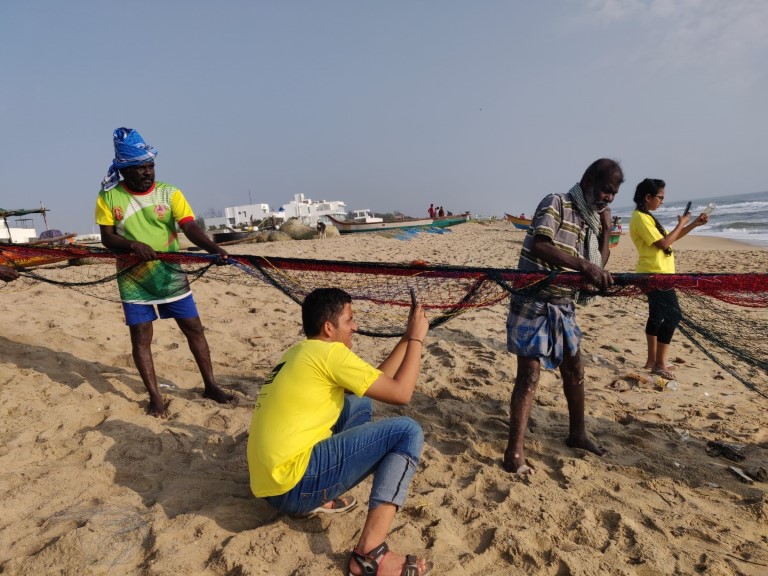 The day began as early as 5.00 AM, the kids were briefed on their topics once again and we all set out to the beach to capture the wonderful scenes. We all spent close to 3 hours with each of our groups on the beach, helping them shoot their topics with some last minute changes that were made. The kids were super energetic and made the best use of the time they could. Everyone had different topics they shot, they tried different angles and composition techniques. As and when they shot, the photos were also simultaneously reviewed by us just to ensure they got the best shots that morning.
After the 3.5 hour long hiatus, we all went back to the school for our final classroom session.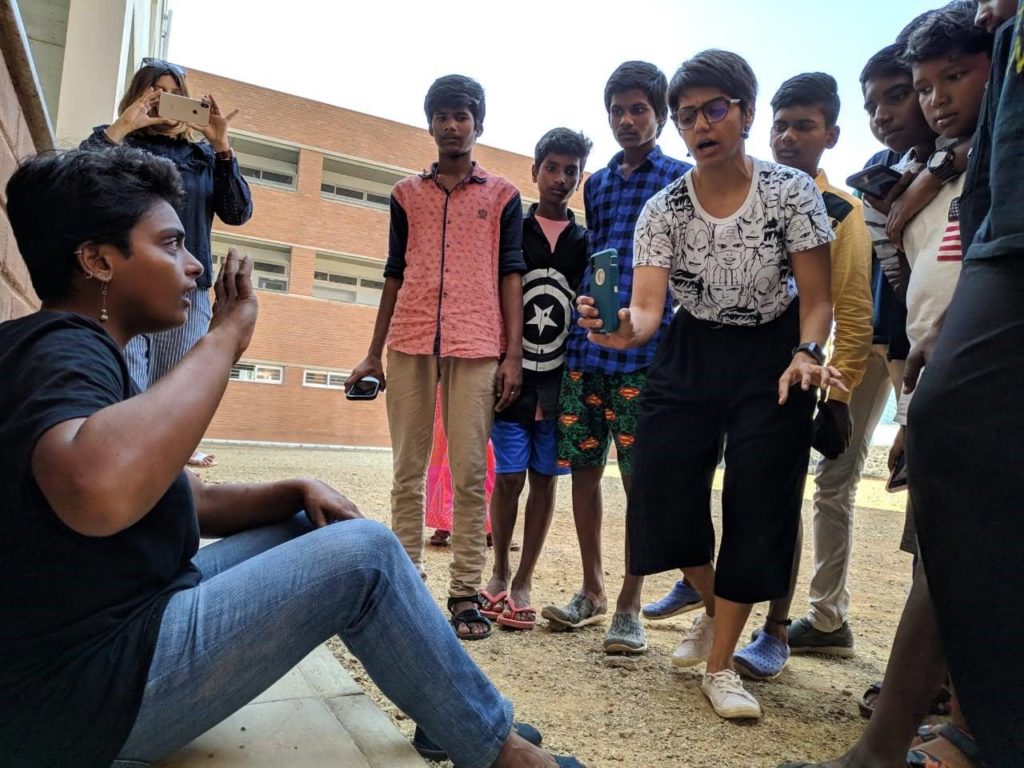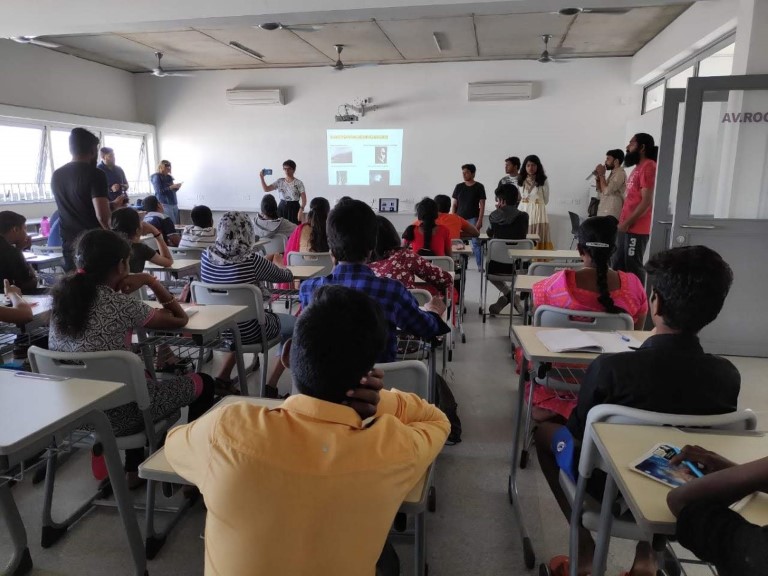 The kids were asked to select some of their favourite photos and the same were displayed on the big screen so that each one got to learn and see what others shot.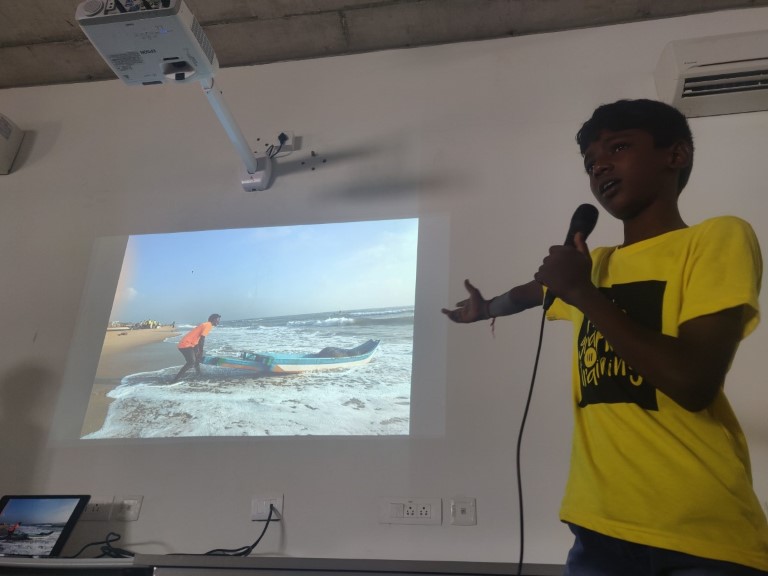 The students gave a small intro speech on what they shot about and it was so nice to see the shy ones come out and talk about their topics. There was a deep sense of happiness and gratitude in me seeing how the kids evolved in the 2 days. At the end of the workshop, they made better photographs and they were all appreciative of each other and respected one another.
It felt like we were all part of this family that came to learn together and motivate each other to perform better. Students from different schools of thought became friends. I almost had tears when this workshop ended & when I had to say goodbye to each one of them. I had this withdrawal syndrome for almost a week.
Their stunning photographs were then showcased at Egmore museum a few weeks later and that feeling of seeing them again at that venue was the best feeling ever. They had no idea what images would be displayed and they were all so happy and excited to see their photographs printed at the venue! I have never taught children before, I always thought I could never do it and I had this deep fright in me always. Thanks to CPB for giving me this wonderful opportunity to be part of their workshops where I got a chance to train young minds photography and over time I realised that I absolutely enjoy teaching children and that's something I would like to do in the future also. It's been more than year since this workshop happened but writing down my experience still gives me goosebumps and these memories will always be etched in my heart forever.