In January 2021, we began what has now become a year-long collaboration with the Goethe-Institut, Chennai on their project M³: Man, Male, Masculine. Following workshops exploring masculinity and gender roles with children at Kovilpatti and Nalandaway Chennai, we've now completed two workshops with students from Nalandaway Delhi over three months, from June 1st to August 20th.
Over the course of the program, various teaching methods from hands-on activities, games, and oral discussions to photography, writing, interviewing, and individual student-instructor interactions were employed to cover the basics of photography and themes of masculinity.

Here's what students have to say about the workshop!
I liked this workshop very much, and this experience was wow. I really appreciate the mentor because she's so hardworking for every student. Overall, I liked the sessions and activities because every activity was so fun. I feel so glad because I'm part of this workshop. Thank you so much. 😊🙏

Khushi, 17
I loved this photography session because I'm interested in photography, and I believe that we're always interested in doing what we love. I liked the photography teachers a lot, because they're not like teachers, they taught us like friends. And the session timings were great too. I'd like to thank CPB for fulfilling my dream!

Faizan, 17
I felt very good attending all the sessions of photography. Our mentors are the best mentors too, because they let us feel comfortable to ask any query. And they are also so friendly, and perfect teachers.

Soniya, 16
Studying the impact of the program
To measure the impact of the program, we had students fill out evaluation forms before and after the workshop. Comparing the answers from the two helped us look for shifts in perceptions or thoughts related to the subjects covered during the workshop, and evaluate ourselves as educators. The results of some of the questions are illustrated below.
Is it okay for boys to cry?
Yes, totally
No, boys should never cry
Sometimes, when they are alone
Pre-workshop evalutation: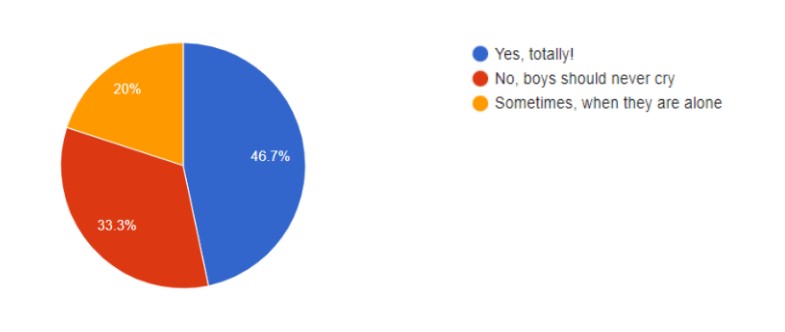 Post-workshop evalutation: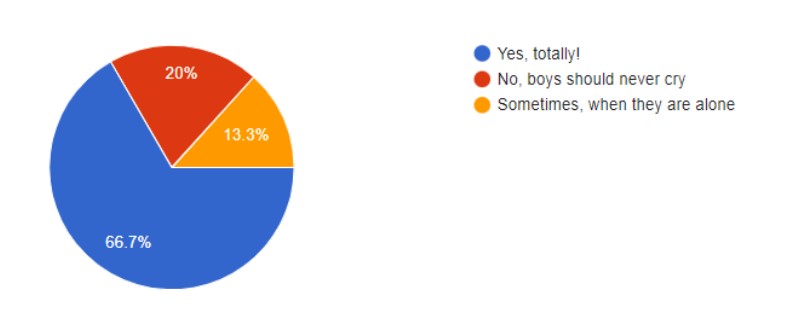 Before going through with the workshop, about 33% of students believed that boys could never cry. 20% believed that boys could cry, but it was something they had to hide. Post our workshop, where we had discussions about dealing with emotions, the ease with which boys and girls show vulnerability, and the stigma around boys and men crying in public, about 66% of students were comfortable with the idea of boys crying in public as compared to 46% before the workshop.
2. What are the qualities of a man?
Pre-workshop evaluation: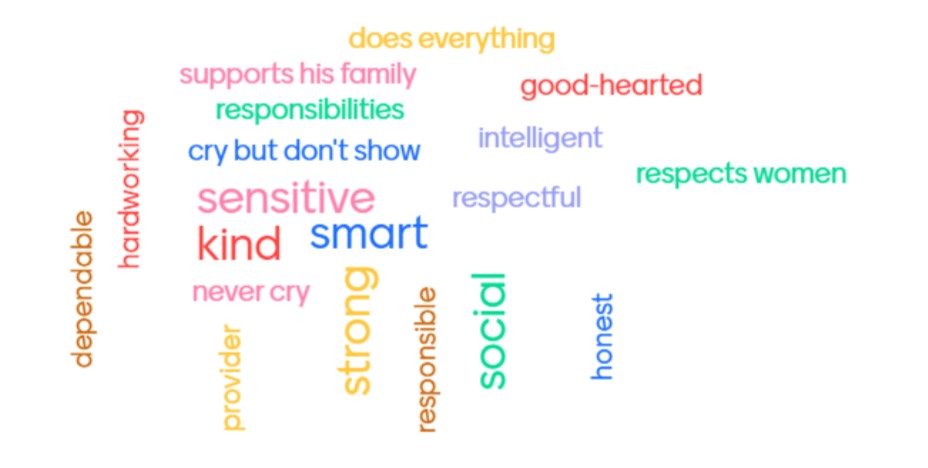 Post-workshop evalutation: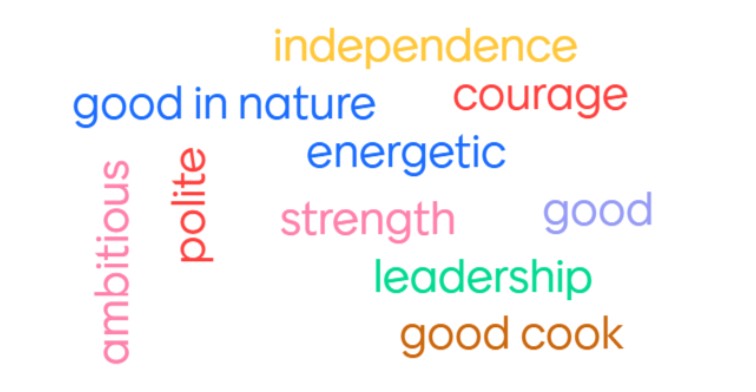 Over the course of the workshop, words and phrases such as 'never cry', 'provider', 'cry but don't show', does everything', and 'supports his family' gave way to students associating more positive words with the way they perceived men. Words such as 'polite', 'good in nature', and 'good cook' cropped up among their answers to the same question in their post-workshop evaluation.
3. Is masculinity related only to men? (This question was asked only in the post-workshop evaluation)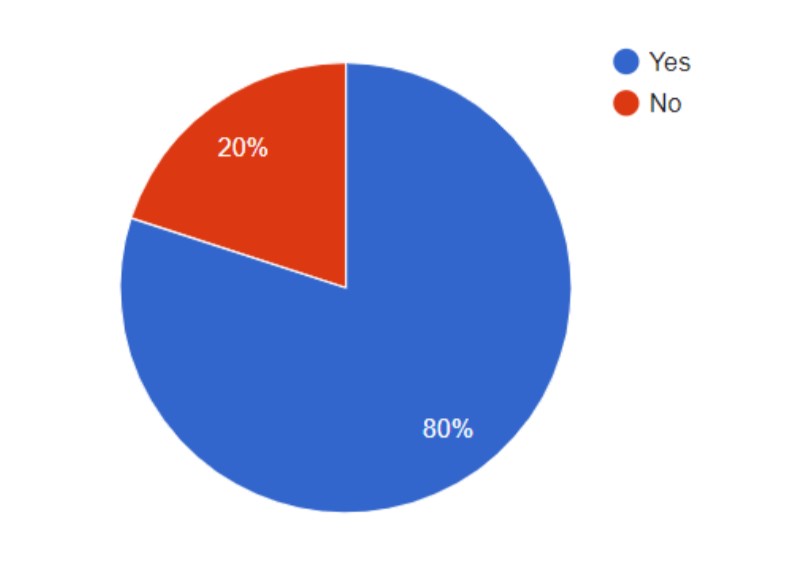 80% of students were able to distinguish the word 'masculinity' from men and see it as something that could be associated with men and women both. Students came closer to understanding the way men could have feminine qualities just as such as women could, and women could have masculine qualities the same way men could.
Out of all of our sessions on the subject of gender roles, emotions, masculinity and stereotypes, a few classes from each batch stood out in particular for the kind of discussions they evoked.
On Emotions:
What are emotions? How many can we name? What do we do when we feel a strong emotion, like anger or sadness? How differently do boys and girls express themselves? Are some of us more free to express ourselves than others? We talked to students about their ways of expression, their comfort zones, their ways of reacting to strong emotions, and more through an oral discussion and a writing activity. To make them feel more comfortable volunteering personal anecdotes, we always began by answering questions posed to them ourselves. After breaking the ice and starting a conversation on emotions and empathy, we asked students to write about occasions when they felt happy, lonely, scared, angry, or curious through a set of writing prompts. The answers we received via a common WhatsApp group helped the students grow closer to each other, understand each other better, and reflect on the importance of being empathetic.
On Stereotypes:
Through Act Out, an activity designed to highlight internalised gender stereotypes, students were asked to enact prompts such as sit, throw, fight, walk and run three times: first without being given any further directions, the second time as a girl, and the third time as a boy. Inevitably, body languages changed as prompts such as 'run like a girl' shifted to 'run like a boy'. Reflecting on their responses through a subsequent discussion, students quickly realized the way the phrases 'like a girl' or 'like a boy' automatically led them to exhibit stereotypical, gendered responses.
The activity opened up a space for discussing gender stereotypes further, inviting students to think further about the different kinds of stereotypes they've seen being enforced or applied to themselves.
The session concluded with A boy thing or a girl thing?, a writing activity requiring students to write down either 'a boy thing', 'a girl thing', or 'both' in response to a list of prompts including actions, careers, colors, etc., such as rescuing, cooking, cars, six pack abs, blue, red, pink, cleaning, or lawyer.
The activity resulted in students responding with 'both' to most of the prompts, indicating a fairly positive impact of the preceding discussion on stereotypes.
On Gender:
Make a Body, an activity designed by Tate, seeks to explore the way sculpture can help us to rethink our own bodies in relation to gender, and how thinking through non-human bodies can be a useful introduction to thinking of gender as a construct.
Through an oral discussion following the activity, students were asked to reflect on the bodies they'd created and wonder what the world might look like if gender didn't exist. How would they think differently about people? How differently would people see each other? How would we dress? What if there were more than two categories?
The responses to the discussion largely centred around the fact that gender stereotypes would be far fewer in a world without gender, along with people having more freedom to express themselves the way they wanted.
Here's a testimonial by Shreeparna Mitra, an observer of our workshop, on her experience with attending some of our classes:
"We know that something significant is happening when you have a student wondering out loud, "actually it would be great if there was no gender!", but not many people could anticipate that it came up in the middle of a class on photography! I believe that was the most rewarding part of the workshop, to not isolate different kinds of learning – finding a way to bring seemingly unrelated things together.
All to the credit of the facilitators, there was never any hesitation to repeat concepts and instructions, as a course like this would rely on. With the care communicated in class, the eagerness with which students shared their photographs beyond homework is reflective of the space that the workshop provided. Often, at the completion of a session, there was an astounding 'I think we're on to something!'
It's that spirit, I believe, that will always push us to transform a curriculum to hold wider possibilities, in favour of a learning that is slow and steady.
At the end of this exploration, I think the students are not only taking away the deliberate introduction to questions of masculinity or gender, but hopefully would continue to associate the act of photography and it's technicality with thinking, questioning and care – just like the environment they witnessed. I believe that is truly what makes this an ingenious effort by all parties and collaborators!"
Photographs shot by Students